Communication – Eighteenth Century
About Eleanor Kuhns
Photo by Rana Faure
Connect with the author:
Website URL: www.eleanor-kuhns.com
Blog URL: www.eleanor-kuhns.com/blog
Facebook URL: www.facebook.com/Eleanor-Kuhns
Twitter: @EleanorKuhns
LinkedIn: https://www.linkedin.com/eleanor-kuhns-36759623
The Shaker Murders A Will Rees Mystery by Eleanor Kuhns
ISBN: 9780727888372 (hardcover)
ISBN: 9781448301720 (ebook)
ISBN: 9781974930661 (audiobook)
ASIN: B07KX3C1WZ (Kindle edition)
Publisher: Severn House Publishers
Publication Date: February 1, 2019
A peaceful Shaker community is rocked by a series of bizarre accidents, but is there more to them than first appears?

Fresh from facing allegations of witchcraft and murder, traveling weaver Will Rees, his heavily pregnant wife Lydia and six adopted children take refuge in Zion, a Shaker community in rural Maine. Shortly after their arrival, screams in the night reveal a drowned body ... but is it murder or an unfortunate accident? The Shaker Elders argue it was just an accident, but Rees believes otherwise.



As Will investigates further, more deaths follow and a young girl vanishes from the community. Haunted by nightmares for his family's safety, Rees must rush to uncover the truth before the dreams can become reality and more lives are lost. Yet can the Shaker Elders be trusted, or is an outsider involved?
Buy the Book
Available from BookDepository |
Alibris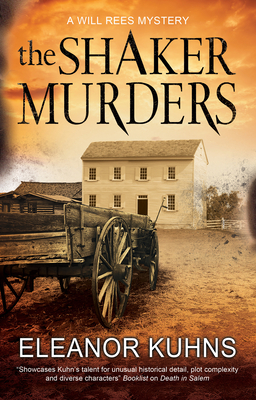 eBook:
audiobook: